Wonderland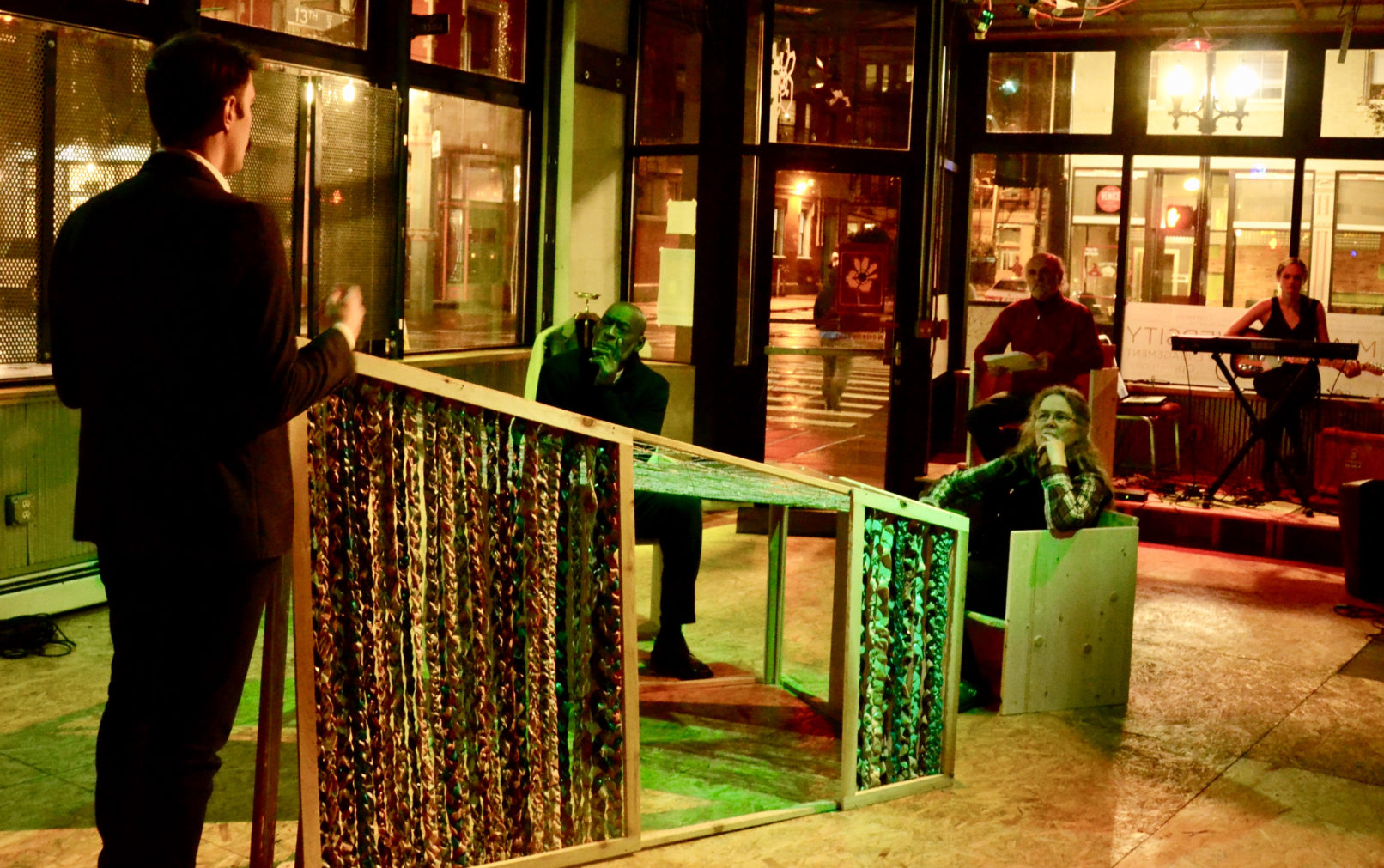 See Wonderland the short film here.
Wonderland …
… an experiment in materializing and enacting the imbalances, dis-proportions, dis-orientations, whack perspectives, body-mind-soul-social-political experiences, as well as the realistic-idealistic visions of those who come to the table, don't come to the table, are invited, are left out, make the table, want to break the table, want a new table, are made to sit at the kids' table, wish there were no table, all in the wonderful world of neighborhood development.
Two neighborhood residents, a developer, and a member of Cincinnati City Council gather around a table specifically designed to show How Things Are, and How Things Could Be, to perform past experiences of challenges, successes, failures, bitter disappointments, and hopeful progress; as well as visions for the ideal interactions, relationships, balances of power among them as primary stakeholder groups, when a project is proposed for a neighborhood that has seen dis-investment, and now re-investment is either happening or imminent.
2018 ______________________________
Performance table and chairs designed + built, and performance concept developed, by Miami University Center for Community Engagement Fall 2018 Residency Students:
Elliott Jones Boyle
Madison Britt
Molly Burns
Alanna Kuether
Raz Ruxanda
with
Cincinnati Professor of Community Engagement, John Blake
and
Facilitating Artist, Mary Clare Rietz
Premier performance composed and enacted by four real life Cincinnati stakeholders, based on their real life experiences:
Bonnie Neumeier as herself, longtime resident and community leader, Over-the-Rhine
John Blatchford as local developer
Maurice Wagoner as himself, Over-the-Rhine Community Council President
Michael Burnham as Cincinnati City Council member
Original compositions and improvisation by Cincinnati-based musician Ann Driscoll.
Lighting: Elanor Eberhardt and Nathan Huber
Sound: Kadar Sairam